An Organization of Sportsmen Dedicated to the Enjoyment, Preservation and Improvement of Salmon and Trout Fishing in the Great Lakes. 
The Next Members' Fish-In is Sunday, July 24th at 4am
This is your reminder that for all members "in good standing," (your membership dues are current) our next Fish-In is Sunday, July 24th and it starts at 4am with a Picnic at noon! Click here for all the details and remember that you must contact Susie before noon on Friday, 7-22, if you plan on eating lunch. You MUST be in line by the strike of noon if you want to weigh your fish.To keep it fair,  NO EXCEPTIONS! We hope to see you there!
News Conference/Freezer Dedication
On Tuesday, July 26th at 10 am, there will be a news conference/freezer dedication at the Fish Cleaning Station at McKinley Marina. GLSF Member Jim Hainey has donated a freezer and the GLSF Foundation has donated a Security Enclosure for the Freezer to the Marina. The purpose of the freezer is to collect surplus fish filets from ALL Fishermen and distribute them to The Hunger Task Force. This is simply a public service to get surplus fish in the hands and bellies of those less fortunate. If you are available, please show up at 9:45 am to show your support.
Instructions for freezer use and fish filet donating are taped to the top of the freezer! Thank you in advance of your participation!
New Evening Fishing Challenge Introduced
On the second Tuesday of June, July and August, starting at 6pm from McKinley Marina, there will be an informal fishing challenge taking place. At least one crew member on the boat MUST be a member of GLSF in order to participate. Please click on this paragraph to see a printable copy of the details and rules! Our next Challenge will be Tuesday, August 9th, we hope to see "you" there!
The weather forecast was questionable again, but held out for the contest, Congratulations to the Winner, Mike Troppman. The results for the July 12th Challenge are:
1st place was Mike Troppman of Carp Killer with a 18.5 lb King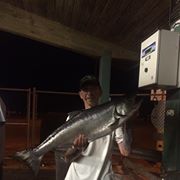 He was the only boat in for weighing at the 9:30pm deadline!
The 83,797 Baby Chinook Are Hopefully Swimming Around the Lake and Growing Up!
About 83,797 Chinook Salmon arrived Wednesday, May 4th, by way of the DNR Truck from the Wild Rose Hatchery and were placed into our net pens! They were released at 9pm, under darkness, Thursday night, May 5th.This kept immediate aerial predation to zero, as the gulls and cormorants do not fly at night, which is when the small fish were released! About 11,450 Brown Trout from Brule, Wisconsin were released safely the previous week using the net pens. The pens are now put away and the nets have been dried.To all of the volunteers, both members and non-members, Thank You, because you potentially saved thousands of fish from being eaten as they were planted!
Recap: About 11,450 Brown Trout were released after dark on Thursday, April 27th.
About 83,797 Chinook were released after dark on Thursday, May 5th. Thank You!
Our Next Membership Meeting is September 13th!
Our program for September will be a presentation by the winning Captain and Crew of our Brew City Salmon Tournament. There will be an opportunity to ask questions. I am sure that it will be informative, educational and enlightening.
The New Berlin Ale House is located at 16000 W. Cleveland Avenue in New Berlin. Click here for a map to this location. Our monthly meetings are in the NE Hall. We hope to see you there!
In the time between now and then, members and guests are encouraged to visit our website frequently for updates on our activities, both existing and new. We have our Ongoing Fishing contest, our 4 Fish Ins, the Brew City Salmon Tournament, Fishing Has No Boundaries and even a new evening fishing activity for 6/14, 7/12 and 8/9. The new event will be updated later this week and the others events are continually updated.Results for the Ongoing Fishing Contest, the Fish Ins and the new event are all behind the membership login and you must be a member to possess the login to see this information. If you want to be a member, please scroll up and click on the menu tab titled "About GLSF – Becoming a Member." We welcome your participation and support!
Our program for May was a special panel presentation by 2 of our more successful "Small Boat" fishing members, starting shortly after 7pm. Jerry Kozar of My Boy, and Tim Gould of Grizzly Charters  addressed the club on how to set-up a boat under 20 feet and successfully catch fish trip after trip. Jerry fishes for pleasure, and Tim was a new Charter Captain in 2015. They continue to catch fish in the face of adverse conditions, at times! There was an opportunity to ask questions. It certainly was informative, educational and enlightening. Thank You to Jerry and Tim for an Outstanding Job of putting Lake Michigan fishing complexities into words, visions and actions for all to understand! Some of the lucky listeners even received a free lure, but if you missed it, you did not have a chance at the lures!
Here are a few pictures from the event!
We Have Moved Our Monthly Meetings!
Effective January 2016, we now meet at the New Berlin Ale House, 16000 W. Cleveland Avenue in New Berlin. This was done to save money and to provide better, more user friendly, arrangements to you, our members. We apologize to anyone who feels that this is a major inconvenience for them, but hope that all members will at least try our new location. With all the changes occurring in the lake over the past 2 years, we need all the support we can muster! Thank You for your understanding!
2016 Annual Al Kretschmer/GLSF Charity Auction Was March 12th!!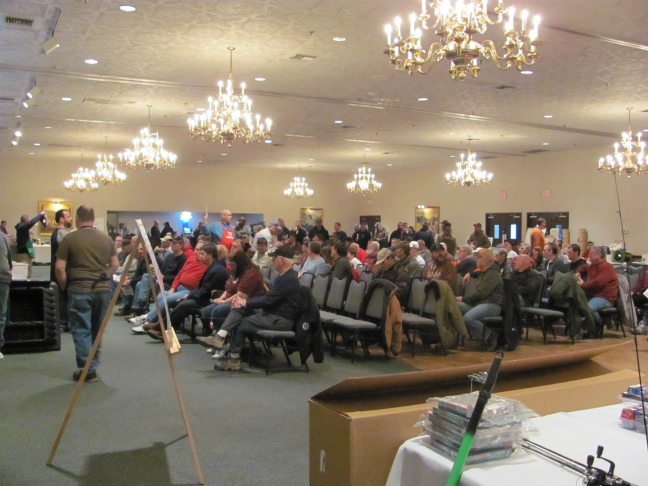 On,Saturday, March 12th we hosted our 38th Annual Auction! It was be held at The New Berlin Ale House at 16000 W. Cleveland Avenue, New Berlin. The doors opened at 9am. Rudy Herschberger was the Auctioneer once again, and will be again in 2017! We hope to see you there! Click Here for a detailed list of Auctions items we auctioned!  We hoped to see YOU there, but if not, please plan on being there on March 25, 2017 for our 39th Annual Al Kretschmer Auction. While we tally the net earnings, we would like to personally thank all of the corporate sponsors and donors as well as the 180 , or so patrons who were at the Auction today and purchased a bidding numbers and bought the many raffle tickets that were hawked! To Everyone, THANK YOU and we hope to see you next year. Through your efforts we will continue to support Sport Fishing Education, the support of the Wisconsin Fisheries and support of the Wisconsin DNR's efforts through our Foundation's support and donations.
We have the 2016 Tournament rules and entry forms available here now. They are available at at this page link: https://www.glsfclub.com/brew-city-tournament. Be ready for surprises as the prizes are being increased with over 50 (yes – 50!) prizes available!
The Final results from Brew City 2015 are posted both here and on the GLSF Facebook Page. Thank you too all the participants, guests and Volunteers. Congratulations to all the winners announced at the close of yesterday's Tournament. We hope to see you again next year at our 16th Annual Brew City Salmon Tournament on Saturday, August 6, 2016 (and there is not a full moon)!
For Everyone at our 2014 December Christmas Party that was waiting for the Salmon Jerky recipe, click on this link and you'll be delivered to a page you can save or print, Thanks to Matt Lubecke for sharing!
Click Here for Information on our Ongoing Club Fishing Contest – Fish of the Month for June is Coho Salmon!
Final Results from our 2016 Club Raffle
Here are the results from the April 12, 2016
Our drawing was held at 8 pm, April 12th, as advertised on the ticket stubs and the following people were drawn as winners:
1st Place- Loose Drag Charters- Winner- Kirk Jensen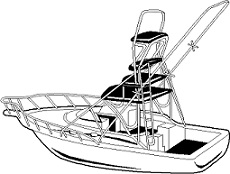 2nd Place- Blue Max Charters – Winner John Jasczinski 3rd Place- Manhardt Charters-Winner- Andy Wolter 4th Place- Brew City Charters-Winner- Erv Glander 5th Place- Grizzly Charters – Glen Debel 6th Place-$300.00 Cablela Gift Card-Winner- Jim Muszynski 7th Place-$200.00 Cablela Gift Card-Winner- Kathy Todd
Congratulations to all the winners and a Special Thank You to our exceptional Charter Captains for donating their trips and to Cabela's for donating the $200 Gift Certificate. Thank you to all the participants and we hope you'll buy a ticket and try to win again next year!
Click Here to see the 2015 Raffle Winners of our Club's Annual Raffle
Click Here to see the 2014 Raffle Winners of our Club's Annual Raffle
Quick Note

– Please check out the new fish scale inside the McKinley Marina Cleaning Station. This $500, very accurate and State Certified scale was donated, by the Mathwick Family Trust, through the GLSF Foundation, to the Cleaning station. It was purchased from and installed by a local company, Floweigh of New Berlin. A dedication plaque has been hung above the scale. When you see Jay Mathwick, please take a moment to thank him and his family for their very generous donation!
We meet at:
New Berlin Ale House 
16000 W. Cleveland Avenue
New Berlin, WI  53151 
This is a Net Pen…..
The Milwaukee GLSF Club is working for all Lake Michigan anglers on maintaining our great fishery.  84,000 Chinook Salmon were planted Monday, May 4th, 2015, by WI-DNR. They were placed into our net pens for acclimation.  The fish were released into the lake the next evening, May 5th. This extra isolation/help for the planted small Chinook Salmon increases their chances for survival. With more fish surviving, the summer, fall and winter returns have become a really great asset for the port of Milwaukee and the fishermen. If you would like to become a member and help maintain our great fishing here in Milwaukee on Lake Michigan, please click on the Become a Member option for the menu above. We are always looking for new active members!
Look for details to be posted here in the coming months for 2016. We will need volunteers again to man the scales during Racine's 10 day run of Salmon-A-Rama. Please watch for this opportunity!
Fact – A 36 pound Chinook Salmon was caught early, August 1, 2013!
Lake Michigan Sport Fishing…
The Best Trout & Salmon Fishing in the World is Right at our Doorstep… and the Great Lakes Sport Fishermen Club is working to keep our fishing great!
Lake Michigan has  been called the "World's Biggest Fishing Pond," and with good reason. We have the best trout and salmon fishing to be found anywhere in the United States. If not anywhere in the world – right at our front door.
Catching a trophy-size fish is no longer something to just dream about, and you don't have to spend thousands of dollars to make your dream come true in Canada or Alaska. You can make it happen right here in Milwaukee!
GLSF club members routinely catch chinook or king salmon over 20 pounds, lake trout over 15 pounds, rainbow trout or steelhead trout over 10 pounds, coho salmon over 8 pounds, and brown trout over 15 pounds.
Join us – the Great Lakes Sport Fisherman – and learn our fishing tips and techniques. We'll help you to fish with success on Lake Michigan, and make your dream of a trophy-size catch come true.
Your membership will insure quality facilities and good quantities of fish for years to come.
Our club's strength is in numbers. Collectively, our members do make a difference by preserving and improving the fisheries.