An Organization of Sportsmen Dedicated to the Enjoyment, Preservation and Improvement of Salmon and Trout Fishing in the Great Lakes.
The next Fish In is scheduled for June 25th with a start time of 4am. Remember to call or or text Brian Haydin at 414-704-0755 if you are fishing and expecting lunch!
May 9th Membership Meeting was held at the New Berlin Ale House
Our featured speaker was one of our own GLSF Members, Robert (Bob) Krecak. As you may recall, Bob has been involved with Dave Bowe and a few others in obtaining 3 pontoons for our new Net Pens, as well as the modification of the pontoons to be able to hold the nets built to DNR Fisheries specifications. These nets will be used to hold some of our stocked fish for up to 3 weeks, as they "smolt" (become imprinted on the local water) before being released into Lake Michigan. The water temperature, and oxygen content, must be measured twice a day, along with feeding the fishing twice daily, from the day they are stocked until the night they are released. It was educational! We will also had a short presentation from Jason Woda and Arnie Arrondondo from the Wisconsin Lakeshore Businessmen's Association (WLBA)! This was the last membership meeting until September 12th!
Click this link to go directly to a document from the National Weather Service to use as a resource for small boat mariners!
There was a Kid's Fishing Clinic back on Sunday, May 21st, at Daniel Boone Conservation League. We were there from 8am to noon. We only had 10 participants! The good news was that everyone fishing caught at least one fish that day. A BIG THANK YOU goes out to the volunteers who were there to help that day.
The McKinley Marina fish cleaning station opened, May 1st. Effective that day, all fish being weighed for the GLSF Ongoing Fishing Contest must be weighed and registered on the Certified scale at the McKinley cleaning station. A second certified scale is planned for South Shore Cleaning station and we hope to have it installed soon!
Brew City Salmon Tournament for 2023 is finally approved. It will be held with the Day 1 Pro Division on Friday, July 28 and Day 2, along with the Amateur Division on Saturday, July 29. This year it will be held in Milwaukee at South Shore Park and South Shore Yacht Club due to McKinley's scheduled maintenance! More details will be published soon!
==================================================
3rd Annual GLSF Free Fishing Clinic was held on Saturday, March 25th. Guest presenters were Dan Keating and Dan Small. We had about 100 people show up on a ridiculously snowy Morning with 10 inches reported in New Berlin! To our host the New Berlin Ale House, all of our patrons, our seminar leaders and fantastic vendors, WE tip our hats and extend a hearty Wisconsin Thank You! The date for next year's Free Seminar is tentatively Saturday, March 30th, at the New Berlin Ale House! Watch for future details!
Our last monthly Meeting was Tuesday, March 14th at 7 pm at the New Berlin Ale House. Our featured speaker was one of our own Lake Michigan Fisheries Biologists, Laura Schmidt from Milwaukee. She updated us on the 2023 Lake Michigan stocking numbers. She give an update of the DNR's involvement is our new "holding" Net Pens currently being built. It was definitely be educational! Thank You Laura!
Attention All Fishermen
The Cleaning Station at McKinley Marina is planned to be opening for the season on May 1, 2023. The GLSF fish collection freezer will be cleaned and and placed in the Cleaning Station for any donated fish being collected for the Hunger Task Force. We will share any information updates we get. Thank You
Brew City 2022 Wrap-Up
Our Brew City Salmon Tournament for 2022 was a success. the Pro Division fished on 7/28 and 7/30 with 20 boats competing. They caught 1577 pounds of fish on day one, and the combined weight of the Pro and Amateur Divisions on day two was 4215 pounds. Wow! Our generous participants also donated 1740 pounds of dressed fish to the Hunger Task Force!

THANK YOU!
Never in my wildest dreams would I have guessed that "we" would collectively donate over 1740 pounds of fresh, dressed fish to the those less fortunate. Click here to see the heartfelt letter from Sherrie Tussler from the Hunger Task Force. Congratulations to everyone and especially those who donated their catch from both Divisions of the 2022 Brew City Tournament.
THANK YOU from the bottom of our Heart!
Here's some pictures of our Tournament
Click Here if you want to see the Big Fish Results
Click Here is you want to see the Tournament Results
Checks and gift cards will be mailed to all the winners very soon. Thank You for your patience.
Here are the Southwest Series Results from the Brew City Tournament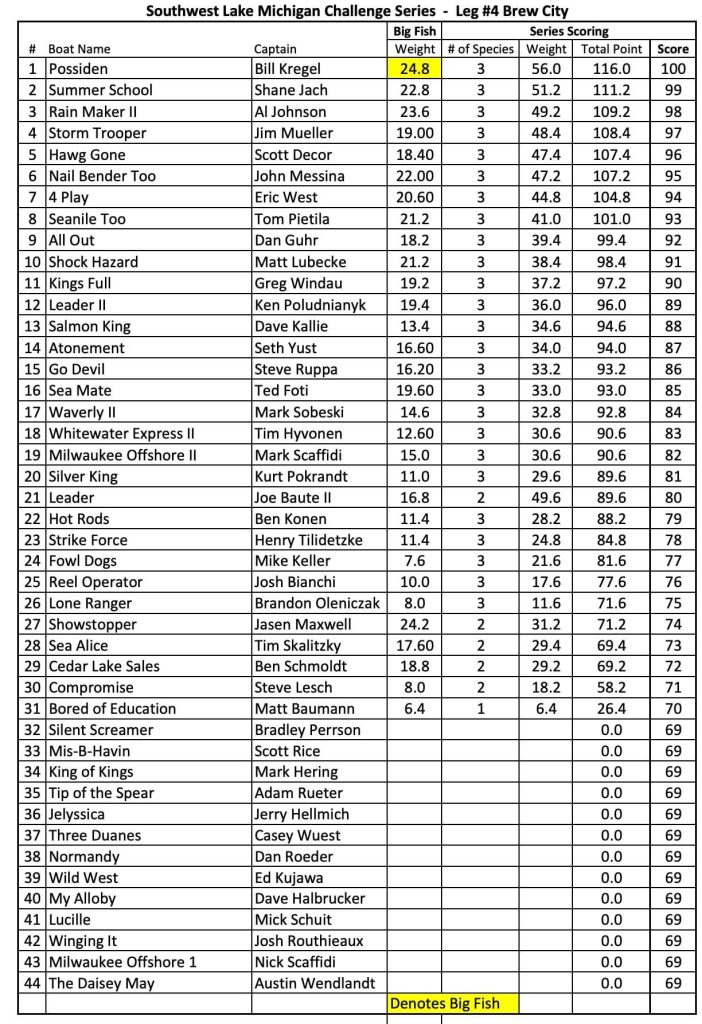 —————————————————————————————————————
Our last membership meeting until September was Tuesday, May 10th at 7pm at the New Berlin Ale House. Our Guest speakers were Matt Porter of Jackpot Charters in Racine and Al Johnson of Rainmaker Charters from Kenosha! In was an entertaining and educational evening! Sorry if you missed it!
Our GLSF Foundation held a Kids' Fishing Clinic on April 9th at Greenfield Park. We only had 25 participants and were disappointed. On April 24th our Clinic at Daniel Boone Conservation League hosted 30 kids with the help of Daniel Boone Conservation League and Monches Hunting and Fishing Club. Thank You to all the volunteers for a job well done!
The Milwaukee GLSF Club hosted a Swap Meet at the New Berlin Ale House (16000 W. Cleveland Avenue, New Berlin) on Tuesday, April 12th. The program was a talk by a representative from Tow Boat US out of Milwaukee and was very enlightening! We had a good turnout.
Final Results from our 2022 Club Raffle
Here are the results from the April 12, 2022.
Our drawing was held at 8 pm, April 12th, as advertised on the ticket stubs. The drawing took place at 8pm at the New Berlin Ale House. The following people were drawn and notified as winners:
1st Place- Manhardt Charters, LLC – Winner – Dave Bowe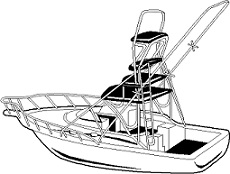 2nd Place- Grizzly Charters – Winner – Jim W 3123rd Place- Fishing Starter Package -Winner- Bill Finn4th Place- 10 Bird Wern Valley Hunt – Winner – Julie Jaworski5th Place- Fishing Starter Package – Winner – Danyell Chupp6th Place- 55 Inch Flat Screen TV Winner – Dave Grebe
Congratulations to all the winners and a Special Thank You to our exceptional Charter Captains for donating their trips and to our Chairpersons, Dave and DeeDee Bowe. Thank you to all the participants and to the winners!
Click Here to see the 2020 Raffle Winners of our Club's Annual Raffle
Click Here to see the 2019 Raffle Winners of our Club's Annual Raffle
Click Here to see the 2018 Raffle Winners of our Club's Annual Raffle
Click Here to see the 2017 Raffle Winners of our Club's Annual Raffle
Click Here to see the 2016 Raffle Winners of our Club's Annual Raffle
Click Here to see the 2015 Raffle Winners of our Club's Annual Raffle
Click Here to see the 2014 Raffle Winners of our Club's Annual Raffle
Hopefully by now, everyone knows we have a new major sponsor for our Brew City Tournament. We welcome Pratt Gears, LLC as our newest major sponsor and proudly announce the the Tournament name for 2022 as: Pratt Gears Brew City Salmon Tournament.
Major Announcements will be made at the GLSF Membership Meeting on March 8th, shortly after 7pm! I hope you can make it to hear it in-person. Details will be shared once it is announced!
We are now announcing our 3rd Ever Milwaukee Great Lakes Fishing Seminar scheduled for Saturday, March 25th, 2023. Put it in your calendar before you forget!
The Great Lakes Sort Fishermen held their February Membership Meeting on Tuesday, February 8th
We had two guest speakers, Steve Rusteberg and Jim Buss, give us an update on the currant launch conditions and led a discussion regarding usability and safety at the Milwaukee County Lake Michigan Boat Launches at Bender Park and South Shore Park. It was an "engaging" and educational evening. More information will be shared with our members over time.
The Great Lakes Sport Fishermen held their January Membership Meeting on Tuesday, January 11th
The Guest Speaker was Jonathan Moore, owner of Nice Guys Motor Works. His phone number is: 1-414-699-7876!
2021 Johnson Pump Brew City was successfully held July 31st with a Pro and an Am Division again this year. We had 22 boats in the Pro Division and 53 boats in the Am Division! The Tournament location was Milwaukee's McKinley Marina. The Fishermen donated 527 pounds of fresh fish filets to The Hunger Task Force! The results can be viewed by clicking on this link! We even got to award the $1000 Sponsor checks from Johnson Pump to the 2 First Place Boats because they had functioning Johnson Pumps on their boats! Checks will be mailed to the winners within the next week! Thank You to all the participants, our fantastic sponsors and the multitude of volunteers for their hours and days of help they gave to the Great Lakes Sport Fishermen!
The Powder Puff/Warm-Up Contest scheduled for Friday, July 30th, was "blown off" by Mother Nature! Hopefully next year the weather will cooperate! Thank You to everyone who was planning on fishing it!
All activities were held in Milwaukee at McKinley Marina. We paid out over $27,000 in prize money to the participants! We paid out 25 Big Fish prizes as well, including $1000 for the heaviest caught in the Tournament, sponsored by Roger Stack and R&R Sports!
We are now still looking for sponsors 2022 for any amount! If you are interested, please send an E Mail to Bob@glsfclub.com! The dates for this year is Friday and Saturday, July 29 and 30, 2022!
On June 5th, there was a Successful GLSF Coordinated Event held at Lakefront State Park. Here is a gallery of 9 pictures from the Event! To Everyone who participated, you are the Heroes, Thank You! Stay tuned for more details on this Great Event!
Congratulations to Ron and Theresa Mickinak, winners of the GLSF

2021 Margaret Berendt Award

!
Our 1st Ever, Milwaukee GLSF Salmon School, was held, Saturday, March 27th.

If you missed, please plan on

attending

our 2022 Seminar on Saturday, March 19th! Here's what it looked like last year:

Here are a few pictures from our April Swap Meet and Vendor Night……
To All of our Friends and Supporters looking for information on The Annual GLSF Auction, We apologize!
There is NO GLSF Outdoors Auction this year. We lost our Auctioneer Rudy to retirement and have not been able to locate an Auctioneer generous enough to only charge a reasonable flat rate with no percentage of sales! If we can find a generous Auctioneer soon, we hope we can return next year!

Thank You for your support!
The GLSF Net Pens are in storage for 2020. Due to the COVID-19 mess, the net pens could not be used! The Sailing Center had a 2 week delay in getting a commitment for placing the docks along the sea wall. Even without the delay, the DNR Fisheries Division decided to just "dump" the stocked fish into the water to make sure no one violated the "Safe Separation Edict!" To keep any possible "congregating from occurring, they are stocking the fish at place, dater and time that will be announced after they are planted. Our members will receive an actual copy of the letter sent out to all the representatives.
For Now, Enjoy the photos from a previous year's stocking!
Looking for the 2019 Awards Winners? Come back after they are awarded at either the May 12th Meeting or at our Fish In on May 24th!
Congratulations to 2018 Fisherman of the Year to Ken Hunt!
Congratulations to Jim and Sandy Jankowski for winning the 2018 Margaret Berendt Award!
The New Berlin Ale House is located at 16000 W. Cleveland Avenue in New Berlin. Click here for a map to this location. Our monthly meetings are in the NE Hall.
Everyone is encouraged to visit our website frequently for updates on our activities, both existing and new. Results for the Ongoing Fishing Contest, which runs from April first through October 31st, and the Fish Ins are behind the membership login and you must be a member to possess the login to see this information. If you want to be a member, please scroll up and click on the menu tab titled "About GLSF – Becoming a Member." We welcome your participation and support!
On Saturday, August 4th, the Milwaukee GLSF hosted their 18th annual Brew City Salmon Tournament! We had 98 Boats registered and 96 of them made it out to try and catch fish. It was a tough day for some, but others found success with large Chinook Salmon and Lake Tout. There were 481 registered caught fish that collectively weighed an impressive 4,413.8 pounds (That's over 2 tons!) We are paying out over $14,150 in money and gift cards. Congratulations to all of the Captains are due because we surpassed all expectations on the amount of donated fish to the Hunger Task Force. The total amount of donated, cleaned and bagged fresh fish fillets weighed 1294 pounds! Wow! The Folks at the Hunger Task Force are extremely excited and grateful and wish to extend their extreme gratitude to everyone who donated their fish! Click on this paragraph to go to the Brew City Tournament Final Results!
The Milwaukee GLSF Organization and its Board of Directors, along with the Brew City Tournament Committee want to thank the Fishermen as well as all of the Volunteers who helped make the event a success.We especially wish to thank all of our outstanding sponsors who actually make the Tournament possible! We hope you can come back next year for Brew City 2019, where we will try to have more excitement that we just had at Brew City 2018! THANK YOU everyone!
Quick Note

– Please check out the new fish scale inside the McKinley Marina Cleaning Station. This $500, very accurate and State Certified scale was donated, by the Mathwick Family Trust, through the GLSF Foundation, to the Cleaning station. It was purchased from and installed by a local company, Floweigh of New Berlin. A dedication plaque has been hung above the scale. When you see Jay Mathwick, please take a moment to thank him and his family for their very generous donation!
We meet at:
New Berlin Ale House
16000 W. Cleveland Avenue
New Berlin, WI 53151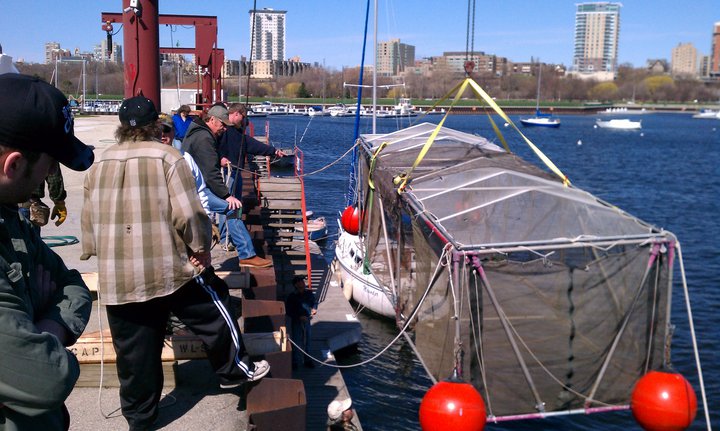 This is a Net Pen…..
The Milwaukee GLSF Club is working for all Lake Michigan anglers on maintaining our great fishery. 84,000 Chinook Salmon were planted Monday, May 4th, 2015, by WI-DNR. They were placed into our net pens for acclimation. The fish were released into the lake the next evening, May 5th. This extra isolation/help for the planted small Chinook Salmon increases their chances for survival. With more fish surviving, the summer, fall and winter returns have become a really great asset for the port of Milwaukee and the fishermen. If you would like to become a member and help maintain our great fishing here in Milwaukee on Lake Michigan, please click on the Become a Member option for the menu above. We are always looking for new active members!
Fact – A 36 pound Chinook Salmon was caught early, August 1, 2013!
Lake Michigan Sport Fishing…
The Best Trout & Salmon Fishing in the World is Right at our Doorstep… and the Great Lakes Sport Fishermen Club is working to keep our fishing great!
Lake Michigan has been called the "World's Biggest Fishing Pond," and with good reason. We have the best trout and salmon fishing to be found anywhere in the United States. If not anywhere in the world – right at our front door.
Catching a trophy-size fish is no longer something to just dream about, and you don't have to spend thousands of dollars to make your dream come true in Canada or Alaska. You can make it happen right here in Milwaukee!
GLSF club members routinely catch chinook or king salmon over 20 pounds, lake trout over 15 pounds, rainbow trout or steelhead trout over 10 pounds, coho salmon over 8 pounds, and brown trout over 15 pounds.
Join us – the Great Lakes Sport Fisherman – and learn our fishing tips and techniques. We'll help you to fish with success on Lake Michigan, and make your dream of a trophy-size catch come true.
Your membership will insure quality facilities and good quantities of fish for years to come.
Our club's strength is in numbers. Collectively, our members do make a difference by preserving and improving the fisheries.