Deals and Steals!
On this page, we will post ads for our members wishing to sell or trade fishing gear. This page is visible by the public world and not limited to viewing by only our GLSF Club members. If you are a member and would like to place an ad here, please send the ad and a few pictures of your item(s) to bob@glsfclub.com, and he will post your ad for you. If you wish to restrict viewing to GLSF members only, please let him know and he'll post your ad inside the members' only section of this website.
For Sale: 1996 19 foot Sylvan – Equipped for Lake Michigan – SOLD!!!
Attached are photos of a 1996 19 foot Sylvan. It has a 2002 115 HP Mercury 4 stroke and a 2005 25 HP Mercury trolling motor. The trailer is a single axle trailer with good tires, a spare tire and a breakaway tongue. The boat has been kept in a garage and is in immaculate condition. It has a removable canvas top. It is set-up for Lake Michigan with 2 Walker electric down riggers and many rod holders for Slide/Dipsey divers and flat lines. It has a ship-to-shore radio, Accu-Troll trolling motor Control, a Depth Raider (for speed and temp at the downrigger ball) and a fish-finder. The Boat belonged to a dear departed friend and GLSF Member! The boat has recently been assessed by Cedar Lake Sales, but the seller decided to keep the sale private to keep the price down. The boat can be seen in Mukwonago, and the "drive away" asking price is $10,000.
If interested, please call Bob at 414-217-9752 or send an E Mail to: bob@glsfclub.com
Sold the Boat! Now the Fishing Equipment!!!
Member Jim Hainey sold his boat and is now looking to sell his fishing gear. Jim can be contacted at haineyjim@aol.com or at the phone number listed on the 2 detailed ads below.
Updated Fishing Equipment List
For Sale – 250 Searay Sundancer and Equipment – Reduced! Only $5000 – SOLD!
Includes everything you need to be on the water tomorrow
250 Searay Sundancer
260 HP Mercruiser New out drive
Electric Stove
Stand up head
hot water heater
sleeps four
Lowance LMS 350 sonar & GPS
four Big John electric downriggers
Depth Raider Temp at downrigger ball
All you need is water!
Contact:
Loran Marmes – 414-416-9310 – E Mail: marmesl@att.net
EZloader traileer
For Sale – 2 Big Jon Down Riggers
2 Big Jon down riggers for sale $800 for the pair…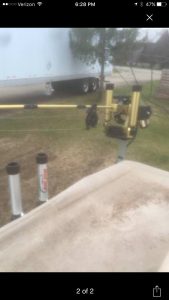 Jason Wasielewski – jasonwaz@yahoo.com – 262-893-3838